Repetition of movements throughout the work day can cause muscle strain and injury. With Zerotape's ergonomically built packing tape system, seven important muscle groups in the hands, arms and shoulders are used significantly less than with traditional tape packing tape dispensers.
WASTE REDUCTION: With most traditional packing tape dispensers, the tape roll is fully exposed and can be easily damaged if dropped or compromised in some way. When a roll is damaged, it will break/tear over and over again in the same spot and tossed away. With the Zerotape packing tape dispenser, the tape rolls are protected within the dispenser's casing which significantly lowers the amount of tape roll damage.
How Does Zerotape Work? The Zerotape packing tape gun features a patented design that eliminates the need for a traditional tape roll. The packing tape gun houses an advanced adhesive strip, which is equivalent to a standard 45-yard tape roll. This unique feature ensures that you never have to search for the end of the tape again or deal with uneven cutting.The packing tape gun also has a built-in cutter that provides smooth, consistent cuts every time. This reduces waste and saves you time and effort while packing.
ZEROTAPE® rPET
48 mm x 200m
Hotmelt adhesive
33 μ total thickness
rPET Tape
SUSTAINABLE TAPE SOLUTION
• Recyclable cores
• rPET film (Polyethylene Terephthalate) made from 85% PCR (Post Consumer Recycled materials- water bottles)
• 3X the average roll length equals less freight, space and CO2.
1 HAND ROLL= 12 WATER BOTTLES
1 MACHINE ROLL= 120 WATER BOTTLES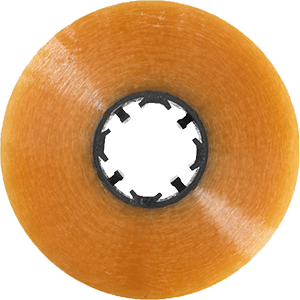 ZEROTAPE® 400
48 mm x 150m
XHT-90 adhesive
43 μ total thickness
ZEROTAPE 400
•Recyclable cores
• Cost effective
• 2X the average roll length compared to average tape rolls
• 2X roll length = fewer roll changes & less storage space